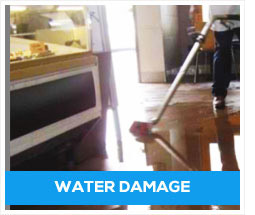 In recent years, water damage has become a significant problem in the New York area. We provide 24 HR Emergency water damage services throughout NYC and understand the urgency of such unfortunate situations. We are standing by and are ready to respond to any type of water damage restoration or water extraction need and can assist you in restoring your home or business to it's normal working condition as fast and as safely as possible.
Our water damage professionals are specifically trained to handle water damage restoration, water extraction and removal, flood damage and cleanup, fire and smoke damage cleanup and mold remediation situations.
Immediate response to water damage situations is imperative in minimizing the damage done to your home or office. Structural drying is an imperative first response and cat greatly reduce the possibility of mold accumulating on your walls and floors due to water damage. Sewer backups may also become a problem during stormy weather and can be hazardous to your basement or household.
Once your situation is assessed by our water damage experts we can begin the cleanup process which includes water extraction from carpets, upholstery, drapes and other furniture items, Sanitizing, cleaning and deodorizing the entire space and drying it and all of its content. We remove mold, dirt, mildew and any other harmful buildup to ensure the safety of the room as well as repair and restore any areas or items that may need extra attention.
Whether you are experiencing water damage due to a recent storm, have a flooded basement or experiencing plumbing issues that are causing your property damage, Contact us today and experience our affordable and professional water damage cleaning services for yourself. We work with all major insurance companies and provide free no-obligation estimates.